HOLLYWOOD'S RICHARD DEAN ANDERSON JUST WANTS TO PLAY HOCKEY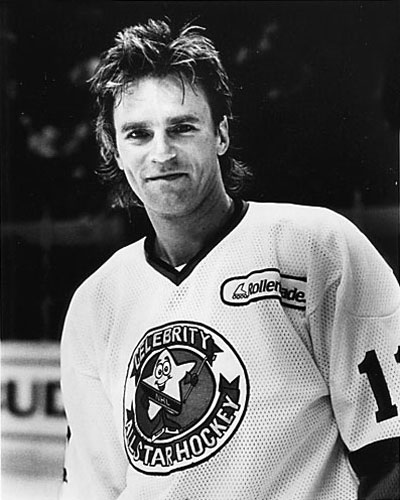 In his starring role in the ABC television series "MacGyver," actor Richard Dean Anderson never uses any weapons. He gets out of jams often with nothing more than a stick of wood.
Off the set, sticks of wood have been known to get him into a jam or two.
"I have a small interest in the game of ice hockey," Anderson said, tongue hopelessly burrowed in his cheek. "Actually," he revealed, laughing heartily, "I'm absolutely obsessed with the sport of hockey. I love it."
Anderson, the 37-year old fit-looking actor, has been a hockey nut for a lot longer than the public has known him as MacGyver.
I started playing organized ice hockey at age seven. My interest in the game just grew and grew as I grew. All my friends played, and that interest perpetuated even greater interest on my part."
For a long time, the only time Anderson ever acted was when he tried to draw the occasional tripping penalty.
Anderson feels that his interest in ice hockey is not purely a geographical thing. Obviously, it contributed to his interest, but he truly loves this game of speed and toughness.
"Hockey is everything that is pure about team sports," he theorized. "It's just the greatest game. It has fantastic, poetic grace. It can have a dance-like quality, too. You need good individual skills, but there is tremendous teamwork."
Anderson got a thrill earlier this year when he learned that this season's episodes of "MacGyver" would be filmed in Vancouver, British Columbia.
"When I found out we were going to Vancouver," Anderson recalled, "I was really excited. I thought, 'this is great.' We're going somewhere where there's hockey and skiing. That's going to be terrific.' "
The plan backfired.
"I injured my back on the "MacGyver" set and I was told not to play hockey on my free time."
Acting is the paramount thing in Anderson's life, and despite the sore back, he's still involved with hockey.
"Two years ago, myself and a few other individuals started a celebrity ice hockey team. We put together a group of celebrities. We got permission from the National Hockey League to negotiate with any NHL club to play a short charity celebrity game before an NHL game.
"We have guys like Michael Keaton, Michael J. Fox, Alan Thicke, we have a lot of fun. We played in Hartford before a game and it was unbelievable. I mean, I played against Gordie Howe. Can you believe that?"
Listening to Anderson, a major television star, bubble and babble about hockey, his average guy Minnesota upbringing shines through. When he's talking about hockey, Anderson seems no different than any near-40-year-old recalling his youth and pro dreams with a wistfulness and enthusiasm that is as bright as fresh ice.
"We've taken our celebrity act around to a few cities," he explained. "We played in Minnesota against Lou Nanne, J.P. Parise, Tom Reed, it's really good because it's for charity, too."
But don't let Anderson fool you. Sure, the celeb games are benefits. But when you hear Anderson talk about his love for hockey, one has to wonder who benefits more from the celebrity games, the charities, or Anderson?