SMART AND UNFLAPPABLE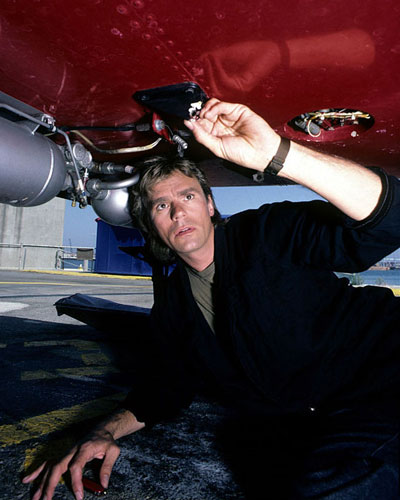 The man who rescues everybody else, MacGyver, needed help to survive last season.
Help came not from some daring freelance troubleshooter, like actor Richard Dean Anderson's character, but from unsung heroes: ABC, which moved the series to 9 p.m. on Wednesday nights; the producers, who revised Anderson's television persona in midstream; and the writers, who scrapped the opening vignettes that didn't lead anywhere.
Their efforts gained Anderson's character a reprieve, and he'll be around again this fall with his inventive methods and laid-back manner. And maybe with a bit of romance.
Anderson, having survived the first season of MacGyver and assured that he'd get a second, rewarded himself with a two-month vacation. He was in a good mood.
"I'm pleasantly elated by this turn of events," he said. "We found our audience on Wednesday night, we're in the top 20 -- it feels real good."
But he was candid about explaining the changes that had occurred half-way through the opening season.
"We were in a position where we had to change concepts after about five or six episodes," Anderson explained. "The opening vignettes became an extreme expense... that played havoc with our finances, that sort of changed our concepts... Then we had to alter the attitude about the character. We tried to warm people up, let them in on the mystery. The parameters of the character and the whole concept have been expanded."
There's more change in the works for Anderson's character, the incredibly clever and quick-witted American who's called in -- anywhere in the world -- when all else fails. Basically those changes will make MacGyver less of a mystery man, more understandable, more -- well, human. This will make him less like some Cal Tech whiz who just happens to know that chocolate bars will seal an acid leak and cold capsules can be used to make a bomb -- both of which he used to get himself and other characters out of a collapsed underground lab, in one episode no less!
Apparently MacGyver's encyclopedic knowledge and inexplicable unflappability in the face of disaster made him a little difficult to relate to. For his part, Anderson rather liked MacGyver that way. "I guess it was a very selfish notion of mine to add that mystery -- probably an actor's ego," he said.
When ABC renewed the series, "the network suggested that it would be nice if we found out about how he got his knowledge, and it's okay if a guy kisses a girl. It's the attitude that the human element is all right... that not every show has to be an adventure," he explained, then added: "Although a relationship can be an adventure, too."
So far, life for Richard Dean Anderson has been somewhat of an adventure, and he agreed that acting has sometimes given way to his other many interests.
"You've caught me at a very good time in my career. I've never done anything I didn't want to do. My agent says that's part of the reason I'm not a superstar yet. But I've made choices based on what I thought was right at the time."
Anderson, born in Minneapolis and raised in the St. Paul suburb of Roseville (he went to the same high school as Loni Anderson), is the son of an artist and a jazz bassist. "When I was younger I asked my father what he thought I should be when I grew up, and he said first that he didn't think I'd ever grow up, but to be anything I wanted to be. So I've never had any pressure from any place but myself."
Looking back, Anderson recalled that "I was an angry young man when I was in my teens -- of course that was during the Sixties -- going through a cultural upheaval, hopping freights... now it seems romantic, adventurous, rebellious."
He also wanted to be a hockey player back then. "When I was 16 years old, I broke my left arm (playing high school varsity hockey), and three weeks later I broke my other arm." He endured two operations, spent four months recovering, and concluded that perhaps he was really not meant to play professionally.
After he broke his arms, Anderson took up swimming for therapy, then went out for the school diving team -- only to "split my head open on the edge of the diving board, so I had to give that up, too." (But he hasn't really given up hockey, or any other of his favorite sports. He plays in a Monday night hockey league at a Culver City ice rink, he skis (he helped with the Special Olympics at ski resort Park City, Utah), sky dives, scuba dives, and drives around on a 1000 cc Harley-Davidson Sportster -- or in his black Toyota 4x4 pickup, or in his BMW. Not long ago he appeared at a celebrity polo match in Palm Springs in honor of Prince Charles.)
Anderson went on to study drama at St. Cloud State College and Ohio University, worked as a jester-singer in a 16th-Century style cabaret in Los Angeles, left to become a department store salesman, came back to act in a Pilgrimage Theater presentation, worked as stage manager for the improvisational Theater Company of Los Angeles, and wrote, directed and acted in shows for Marineland.
Eventually Anderson landed the part of Dr. Jeff Webber in ABC's daytime drama General Hospital, a role he continued for five years until he decided, "I don't think I need to do soaps any more."
He later appeared in two short-lived CBS series, Seven Brides for Seven Brothers and Emerald Point N.A.S., and made guest appearances on Today's FBI and The Love Boat. His one theatrical film, tentatively titled Ordinary Heroes, with Valerie Bertinelli, is still unreleased.
But it is MacGyver that has given him his first starring role. And for the first time, someone has become concerned that the 36-year-old Anderson's devotion to active sports -- skiing, sky diving, scuba diving, hockey -- might provoke a repeat of the teen-age episodes that iced his dreams of playing pro hockey. Those people are the show's co-producers, and they prefer that stunt man Steve Blalock handle the on-camera derring-do, not Anderson.
"John Rich and Henry Winkler, the producers, have indicated that I am indeed the franchise here and that I am the commodity that people want to see, and to stop doing sky diving and so forth. Which I won't do. They know I go off to do hockey and my little charity ski racing. But they know if they took it away from me..."
Winkler, after years on the Happy Days series, also has experience in the youth-oriented market. His influence may account for MacGyver's appeal to young viewers.
"Kids are great," says Anderson. "Kids come along, watch the show, grab their parents and say, 'Watch this!' And the parents like him. First of all, it's a nonviolent character. He cringes when a big guy gets ready to hit him. He's afraid of heights. It's very human to be afraid. The guy is not riddled with machismo. This guy is not walking around with his shirt unbuttoned."
And the kids who watch MacGyver pick up on the tongue-in-cheek humor, or they watch mainly for the Indiana Jones-type heroics, apparently do so the way another generation might have inhaled the Saturday morning serials at neighborhood theaters. But what do adults see in MacGyver besides a somewhat laconic, fairly athletic television incarnation of Harrison Ford?
That has been the summer project for MacGyver -- clarifying his image, expanding the plot lines. Filming has resumed now for the fall season, and MacGyver's survival will depend on those changes. Last season, he was revived after taking a beating from Angela Lansbury's Murder, She Wrote on CBS through the first week in January. In mid-December the show ranked a dismal 63rd for the week, pulling a 10.6 rating and a 15 share. The next week ABC shifted the program to the Wednesday night period, where competition was not so fearsome -- particularly after CBS' Mary proved a disappointment. The next week, MacGyver bounced up to a 17.7 rating and a 26 share and ranked 26th for the week. The show went on to rank 19 twice and to pull both a 17.9 rating and a 28 share at various times.
Anderson's ready to jump back in and compete. "After 10 months of MacGyver, I purposely took two months off to rest. I didn't want to get burned out and totally exhausted. Being the only regular on the show, I'm on the screen almost all the time. But don't get me wrong, I love it. I'm proud of the show."