SOLDIER OF FORTUNE
Richard Dean Anderson has finally won the battle for recognition after daytime.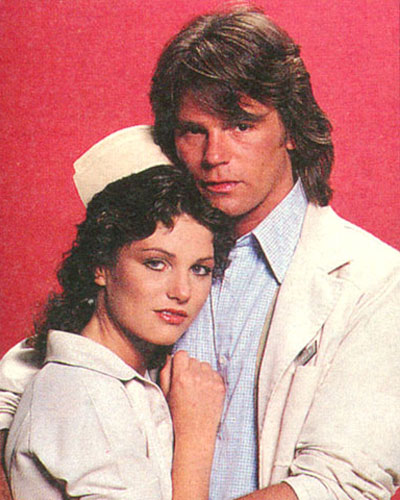 You remember him. He set scores of hearts aflutter on General Hospital and continued to win fans in two prime time series, Seven Brides for Seven Brothers and last season's big-budget, low-return drama, Emerald Point, NAS. If you remember Richard Dean Anderson from any of that trio of shows, you probably remember his lanky good looks, his firmly set jaw and his straightforward manner. But what about a sense of humor? Richard Dean Anderson has never played a character with one - until he stepped into the role of the soldier of fortune on his new ABC series MacGyver.
It's a welcome change from the sober Dr. Jeff Webber on General Hospital. "He was morose," Richard admits, "and while I was initially concerned about that quality in his personality, it seemed to work, particularly with the female fans. There was a quality about Jeff that made women from eight to eighty want to mother him."
In the latter part of his tenure on General Hospital, Richard admits that he didn't have to "act" humorless. He was genuinely unhappy. "I had nothing to do except stand around reacting to other people's problems, which is incredibly boring, I had the back-burner story line of all-time and I'm sure the constriction, the impatience I felt on the set came through on the screen. Gloria Monty is still a person I'm very friendly with and I'm beholden to her for giving me my start. But things were so stagnant I was getting migraine headaches. I was miserable." Does he still see any of the old GH crowd? "I see Doug Sheehan occasionally. He's into polo now. Got his own horse and everything. That show's (Knots Landing) made him rich." Richard winks slyly. "Me, I give all my money to charity."
Disenchanted with GH, Rick moved on to greener if not better pastures. Those "other pastures" turned out to be a slew of guest-star appearances on other prime time series. Richard eventually landed his own. Well, not quite all his own. He was one of seven in Seven Brides for Seven Brothers. The show had music and charm, but not the necessary numbers, and it was gone after a season. Ditto, Emerald Point. "They told me I wouldn't just be a wooden good guy, that I'd have some mean streaks, but we got cancelled before I got a chance to do anything wicked. Oh wait, I slept with a married woman. That's about as villainous as I got.
"I hate to say that this is my Second Life, but in a way, it is. MacGyver is my show, I'm the star, I love what we're doing with it and, I've got to tell you, I've got some great people behind the camera. Our head writer, Jerry Ludwig, our staff, everybody!" Richard pauses a moment and digs into his salad. "I have a spontaneous personality, not only physically but verbally. So I'm in seventh heaven with this show because I was never allowed to use it before. I'm doing a great deal of my stunts and I'm working with the writers to help them find a way to integrate my personality into the character. Believe me that's easier said than done, but this team is so sharp that we've almost got it cracked.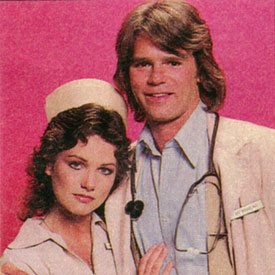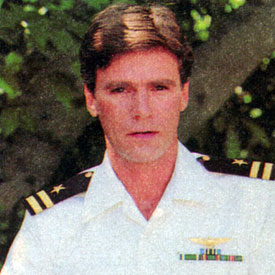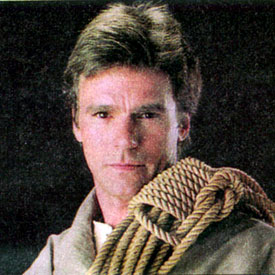 MacGyver is a one-man Mission Impossible force - a kind of hodgepodge of James Bond and Indiana Jones with a little bit of Maverick thrown in. There are still a lot of mysteries about the character, though and that's working to our advantage. A perfect example is, I'm a frustrated ice hockey player. I really wanted to be a pro. It didn't work out, but because I'm capable of that, we've structured an episode with an ice hockey theme. That to me is exciting, I get to bring something of myself to the character and I get to do it with people like my stunt double, Steve Blalock, and our stunt coordinator, Buddy Joe Hooker. These guys are the best in the business."
It wasn't always so exciting. When prodded about his experience on Emerald Point, Richard cocks his head to one side and winces, "There's not much to talk about. The best thing was that, playing a pilot, I got to meet a lot of interesting people at the Point Magoo Testing Center. My lasting memory will be having had the opportunity to fly with the Blue Angels. I blacked out for a second and then experienced weightlessness. Unbelievable! As for the series, I don't have any negative memories - I just wasn't used. I got 54 days of skiing in that year."
Richard is reluctant to reveal specifics regarding his personal life, although he does admit to "currently being involved in a serious relationship." Names? Initials? "No," he replies cagily, "but I'll tell you this much. The woman I'm currently seeing, Sela Ward, played my sister on Emerald Point.
"I'm not ready for marriage yet," professes Rick, "but I'm edging towards it; or at least towards a more serious kind of relationship. I've played the field a lot and I've always had a good attitude about sex. An extremely good attitude about sex. What's been difficult for me is this whole notion of being a 'sex symbol.' I'm hardly a symbol for sex, if you want to break it down semantically. I've always fought that classification of 'hunk' and a lot of times I've lost." Rick pauses and laughs, shaking his head in bemusement. "I don know. Maybe now that I'm older, I'll get some credibility."
If MacGyver is a hit, Richard will have credibility to spare. He's already receiving star treatment ("I've got a trailer as big as a soundstage.") He would like to use that credibility to earn him a chance to direct a few episodes of the show himself.
"For the first time in my career, I'm intrigued with my potential. I was never pleased with the work I did as an actor and I was frustrated that I never forged ahead with my ice hockey. But I broke my arm and that took the necessary aggression out of me, although to this day my dream is to sing the Canadian National Anthem at the Stanley Cup. My dreams are changing though. I'm going to do some good things."