"HEY RICK CAN I HAVE THE CAR TONIGHT?"
Things haven't been the same at the Anderson house since Rick's kid brother, Jim, came to town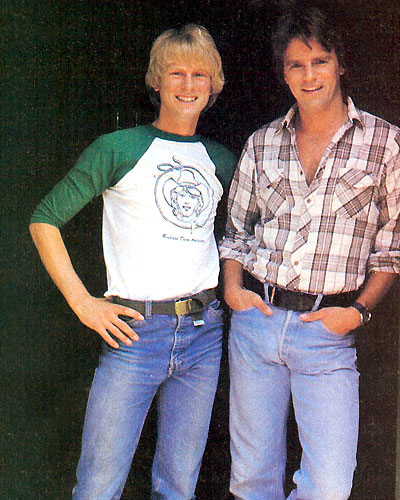 Life is really wild and crazy for General Hospital's Rick Anderson (Jeff) now that his 22-year-old brother, Jim, has moved to southern California. Jim's full name is James Stewart Anderson, and if you confuse him with another Jimmy Stewart, well, that's okay, because Jim has high hopes of conquering the movie world.
Rick says, "I'm helping my kid brother all I can to get started in show business," and they've become real buddies in recent months. Although Jim has his own place in Santa Ana, California, he visits Rick frequently in L.A. When Jim happens to be dating a Los Angeles girl, big brother Rick helps him choose the right restaurant for the evening, loans him his best jeans or even his car keys.
Despite their age gap (eight years) Rick and Jim have always been close. Growing up in Minnesota, they were a pretty wild bunch, aided and abetted by their two middle brothers, Jeffrey (now 29) and Tom (now 26). "The four of us were pretty notorious on our block," Rick recalls. "We'd take on anyone in the neighborhood." Their mother, an artist, was unable to control them. Their father, who taught English by day and played jazz by night, was absent most of the time.
When it came to learning about sex, the boys were on their own. At 14, Rick remembers "fooling around" with two girls in his backyard shed. Suddenly, Rick heard his father's footsteps, so he tried to hide the girls and pull himself together. Leaving the shed, he matter-of-factly greeted his father, who definitely knew what had been going on. Rick had to confess everything. "Well, just be careful," were his father's final words on the subject.
"By the time I got interested in girls, Rick was away at college," says Jim. "There were times I wished he was around to give me advice. I always looked up to him."
"That's because I was always taller," jokes Rick. "Growing up Jimmy and I were best of friends. We'd play football in the snow. I'd be on my knees, and he'd be diving headlong!"
I had to play so much harder to keep up," Jim explains.
"We were both very competitive," Rick believes.
The four boys drew even closer together when their parents' marriage ended after 23 years. "Maybe if there had been a girl in the family, our parents might still be married," Rick says. "There would have been some human being for my mother to relate to. We were never home, and my mother never got pampered. We all loved her, but we weren't expressive."
By the time of the split, Rick had already left home, but Jim was "in the thick of it." Jim chose to move to California with their father, feeling that dad better understood his teenage struggles than mom did. Later, he settled in Cleveland.
But through it all, Rick and Jim remained close. In some ways, Jim had been harder hit by their parents' break-up because he was still a teenager when it happened. But Rick was always there to listen to his problems, even if it was just by long-distance phone call. "We've always had to take care of each other," Rick says.
All this time, Jim was living in Cleveland, where he worked the lights at a discotheque. It didn't take long for the local ladies to discover that Jim was not only a fantastic dancer, but also the brother of a soap opera heartthrob. And it didn't take Jim long to realize that Hollywood was where he really belonged.
Jim works in the men's shop of an L.A. department store by day, in the evenings makes extra money modeling in fashion shows. "I plan to take acting lessons as soon as I have time to check out various teachers," he says. He'd love to land a role on a soap, and has already appeared as an extra on General Hospital. "I really enjoyed that day and learned so much."
Neither brother is anxious to marry in the near future. While Rick is seriously involved with stewardess Kathy McGuiness, Jim has no special lady. "I know a lot of girls, but I'm not committed to anyone," he says. "I'm too young to get into a relationship."