RICHARD DEAN ANDERSON
Soap's most gentle, honest star yet! Can anyone be as sincere and honest as Dr. Jeff Webber? Yes! The real Dr. Webber, Rick Anderson!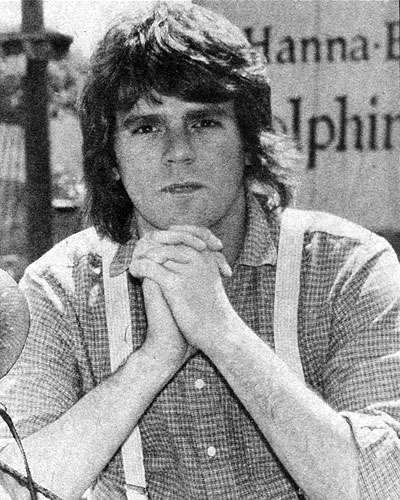 If you watch "General Hospital," you are probably in love with Dr. Jeff Webber. Tiger Beat is now going to give you the chance of a lifetime: now you can also fall in love with Rick Anderson... the real Jeff Webber.
Unlike Jeff Webber, Rick is single and he likes all kinds of girls. "I can't say exactly what I like in a girl," Rick says. "It's just something that happens when I meet her for the first time... a certain twinkle in her eyes, maybe!"
A date with Rick would certainly be fun. He's got not one but three motorcycles and loves taking girls for rides on them! He's a very unmaterialistic person and prefers the simple things in life. He loves sports; in fact, he played ice hockey when he was in high school. (That's probably where he developed his, grrrreat body!)
His 6' 2" frame, light brown hair and (mmmmm!) brown eyes are enough to make any girl lose control. But don't! He likes a girl with a strong head on her shoulders.
If you play the guitar, you're even more suited to Richard than you'd imagined! He has one, too! Wouldn't it be delicious to be able to sit around his house on a Saturday night playing a duet?!
Not only can you catch Richard on "General Hospital" (along with gorgeous Kin Shriner), but he has recently formed a band! With any luck, you may be able to catch a glimpse of his musical abilities in the near future.
A man like Richard Dean Anderson is almost too good to be true. Can you take it? Write to him in care of Tiger Beat and let him know how much you like him! Who knows, he may even write you back!
Richard Dean Anderson, c/o Tiger Beat, 7060 Hollywood Boulevard, Hollywood, Calif. 90028.