THE FACTS ABOUT RICHARD DEAN ANDERSON
(Fact Number One: You're Going To Love Him Even More After You Read This)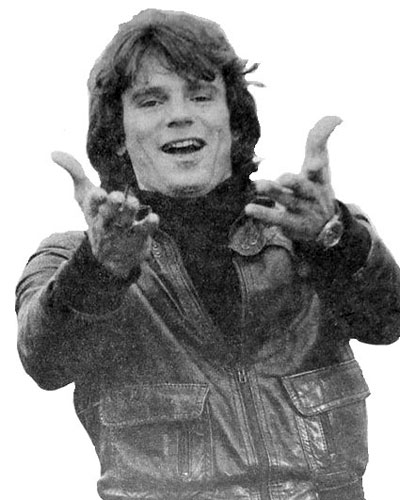 To know this sexy "General Hospital" star is to love him! And the more you know about Richard, the better. So get ready to know him AND love him a lot more than you did before!
Rick broke both arms while playing ice hockey in high school!

During the '60s, he was a "hippie." His hair was so long, it reached his waist!

He was born in Dawson Creek, British Columbia, but his family moved to Minneapolis when he was only three days old!

Rick owns four motorcycles: a Harley Davidson Sportster, two Montessa 250 dirtbikes and a 125 dirtbike!

He has three brothers. There's Jeff, who's 29, then Tom, 26, and Jim, 21.

Besides being the proud owner of four motorcycles, Rick recently bought a new truck! It's a four-wheel drive Toyota with oversized tires, chrome mags, step bumper and large mirrors!

Rick loves skiing, and last winter, he was snowbound on a mountain in Taos, New Mexico, during a ski trip. There was a blizzard that dropped a ton of snow and had winds up to 105 miles an hour! He was safe and sound (thank goodness!) and still loves to ski!

One of the things he likes best, besides being on "General Hospital," is making guest appearances on other shows. "The $20,000 Pyramid" was his favorite.

He loves to receive letters from fans, especially when they include pictures!

One of Rick's very favorite dinners is broiled halibut with steamed broccoli and zucchini!

Rick once worked in a department store selling curtains and men's shoes!

His hobbies are scuba diving, riding his motorcycles, playing guitar and piano, and building furniture!

Warm, sensitive, loving girls are the ones Rick likes best!

He once had a job at Marineland (an oceanic theme park in Southern California) writing, directing and acting in shows. He loved working there, except when he had to hold a dead fish in his mouth so the killer whale could leap out of the water and snap it up!

Rick took a 6,000-mile bike trip to Canada and Alaska when he was only 17 years old!

This gorgeous hunk is 6'2", weighs 172 lbs., has light brown hair and dark brown eyes (as if you didn't know!).