CAN THIS DOCTOR MEND HIS OWN HEART?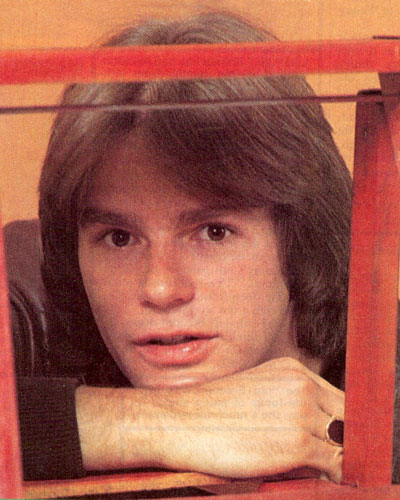 When athletically attractive Rick Anderson recently ended a year-long love affair that had been "a special relationship that will be hard to match... if it ever could be," it was obvious he wasn't very happy. "General Hospital's" Dr. Jeff Webber carried on his daily routine all right, but the romance, and especially the breakup, had stirred lots of conflicting emotions, and prodded an introspective thought or two.
"I had withdrawn from playing the 'field,'" Rick explained. "I had made a big step in my emotional life by asking this woman to live with me." It had been clearly a serious, intense love affair, and ending it was painful, although necessary, at least at this point in time.
"While we were together," Rick added for emphasis, "my eyes never wandered, even though I'm very attracted to beautiful women."
Just a little chauvinistic? No. Although it might be physical appeal that first attracts Rick's attention, he went on: "I have an incredible respect for attractive women who have more to offer than what is traditionally, conventionally expected by most men. I mean, beyond the physical. If there's nothing more behind the bodily beauty, then a woman becomes less and less attractive to me. In this town especially, there are a lot of physically beautiful women, but..."
It's just not easy to find the right mix of qualities Rick is looking for in one lady. For reasons Rick himself can't be sure of, he admits "I continue to end up with emotional relationships that usually last no more than eight months or so... I've had maybe three or four major love affairs that were emotionally, physically, and spiritually very intense, but they didn't last."
Actually, it would seem that Rick doesn't really want them to, yet the fact that these very close, very intense relationships do enter his life seems to belie his need for some strong emotional security. But when asked if that's true, Rick mused: "I don't know... I guess I'm in a perfect position to make excuses about my attitude... because of what my parents went through. After twenty-three years of marriage, they divorced. It was pretty cold - icy - around the house for a while."
Maybe his parents' divorce has left Rick with the fear that anything good can go wrong... so be careful! Taken to an extreme, it might also explain why Rick might have established a pattern of putting an end to anything that seems "too good to be true."
Of his last encounter, Rick explained: "I guess I'm just a little bit masochistic. I was on the verge of becoming incredibly happy. I was ecstatic for a great deal of my relationship with her. It was all working - but I was becoming too happy. Maybe it was threatening my 'survival pattern.' I don't constantly need the presence of another human to be content. I think that's why I prefer my own company to being with a group of people. I really don't socialize very much."
Yet, anyone who's seen Rick in public, surrounded by his fans, will tell you he's quite an energetic, outgoing fellow who generally says exactly what's on his mind while enjoying everyone around him. And although he doesn't much socialize with other cast members of "General Hospital," he does like them, but does admit: "I often prefer my own company!"
"I like my quiet moments at home, alone - in my 'own space.' Yet, I'll go to work and be as gregarious as all get-out. I'm often the class clown, juggling, tumbling on the set. You see, I know I'm locked into that environment for 12 to 14 hours, so I'd better make it a circus for myself. I try to make it feel more comfortable for myself, but it's still not comfortable. I get chronic headaches and stuff from being there. By the end of the day I'm really looking forward to going home to be alone. Maybe it's a selfish attitude."
Although certainly very popular as Dr. Jeff Webber, with a large fan following, Rick doesn't feel totally comfortable with compliments about his work. Perhaps it's because acting wasn't Rick's first goal. If it hadn't been for a serious elbow injury, Rick would have pursued a professional hockey career.
"I've never had any difficulty doing anything physical - athletic - in my life. But before I got this job on the show I hadn't stuck to one thing for very long. "General Hospital" has been very good to me; very good for me. Yet, trying to be an actor day in, and day out... well, it's very frustrating to me not to be able to be a good actor. I don't kid myself; I don't tout myself as a fine actor at all. I personally feel that there's something missing, or something's missing me. So, I feel extremely lucky to be on this show. For some reason, I'm popular. I've been very lucky!"
Have the last three years on the show changed Rick very much? As far as his general lifestyle goes, Rick laughed: "I've always lived impoverished! I never had enough money to buy a motorcycle, let alone three or four... and scuba gear. I've always had fantasies about those things and I knew as soon as I had money, those would be the first things I'd buy. But in general, no, my lifestyle hasn't changed all that much.
"But, I've met a number of people who have opened my eyes with their revelations, insights, and perceptions. One of the best things about being out here in Los Angeles these last few years is that I've been able to spend a great deal of time with my father who lives in San Diego. I dearly respect him as one of the more intelligent, perceptive men I've known. He's a jazz musician, and repairs and tunes pianos too. He's also an incredibly sensitive man."
Certainly not about to make any abrupt changes for the moment, Rick will be around as Dr. Jeff Webber at least until contract time is up. And he's open to the idea of renegotiating too, but acting as a lifetime career doesn't necessarily appeal to Rick.
"I'd be able to leave it behind," he confided. "I could leave it as something I did as just one particular step in my life. I do like northern California a lot, and Oregon too - actually, the whole western seaboard is great. Someday, I wouldn't mind owning a ranch and being noted as a farmer, maybe as a cattleman..."
For now, however, Rick's immediate goals include doing the best he can on "General Hospital," and perhaps, "if nothing else, maybe I should learn to maintain a relationship. Maybe I should examine what my ultimate goals are. I suppose..."
Rick repeated what castmate, Stuart Damon had said about him: "Stuart said, 'You come right off the wall, but I don't ever think you know where you're coming from!' Well, things happen so spontaneously, and I often say things impulsively, that I don't feel I control it. For now at least, my salvation is my work."
We have a feeling Rick does indeed know "where he's coming from," and probably where he's going too. He's just happier keeping it all to himself! At least for now.