"I DON'T HAVE A DEATH WISH!"
Motorcycling, Skiing and Scuba Diving Are Simply Not Enough - Now Richard Dean Anderson Wants To Try Hang-Gliding and Sky-Diving! But There's No Hidden Urge to Self Destruct! It's Merely the Excitement of the Challenge.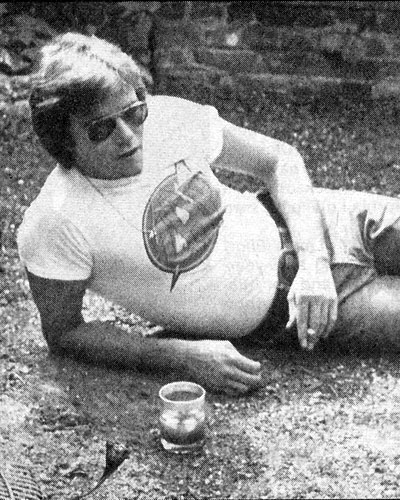 Rick Anderson (Dr. Jeff Webber on "General Hospital") is something of a rebel, and he likes to take part in activities that present a challenge. He's long been a motorcycle enthusiast. Lately, he has taken up skiing. He is considering trying sky-diving and admits to a fascination for hang-gliding. He also scuba dives when he gets the opportunity.
"I'm fascinated with situations that allow me to adapt to physical dilemmas," he explains. "I like to be physically in control of everything so that my reactions are automatic. It's really a case of how you play with nature."
Rick owns a Harley-Davidson motorcycle that he frequently rides to the "General Hospital" set. He also has several smaller dirt bikes for scrambling up and down hills in Southern California.
On one occasion, Rick was racing down a hill and hit a bump. "The bike went one way, and I the other. The bike was in two pieces, but I came out in one! I did get scars from the accident and a dislocated thumb."
Rick has suffered many injuries over the years from motorcycling, hockey-playing and skiing. Although he hasn't broken any bones, he has strained or wrenched nearly every muscle in his body at one time or another. And his legs bear the scars of many cuts and scrapes.
As a child in Minnesota, Rick once collided with a dog when he was skiing. He sprained his ankle and wrenched the muscles in his knees as a result of that collision. He also gave up skiing for twenty years. Difficult to believe as it may seem, he did say twenty years!
Last year he took to the slopes again, and now says, "I could be one of the world's finest ski bums." He prefers downhill skiing to cross-country - he likes the speed involved. "I might be a racer," he adds. He's done some ski-jumping, but not much.
Aspen, Colorado is Rick's favorite place to ski. "There are such beautiful, ominous mountains there and no town. It's a whole world of nice white powder." He says skiing in the Rockies has spoiled him. "The hills of Minnesota are now like bumps in the road in comparison."
He has already spent all of his vacation time this year on skiing trips. In February, he was scheduled to appear on "The Family Feud" with other members of "General Hospital's" Webber family, but he had skiing reservations and was unable to cancel them.
When Rick is in California, and is not working on "General Hospital" or riding his motorcycle, he spends a lot of time on the beach. He particularly likes to scuba dive, something he became interested in when he worked at Marine Land. "I saw these divers around and how much fun they were having. I just had to get certified! So I went out and did it."
As far as sky-diving and hang-gliding go, Rick has tried neither one yet, but he's itching for the chance. He thinks the producers on the show may frown on these activities because of the danger involved, so he has postponed them.
Despite his interest in dangerous sports and his reluctance to wear a helmet while riding a motorcycle, Rick says he has no death wish as one magazine suggested. "I emphasized that it was not a death wish - or anything like that. It's just freedom. I like testing myself physically. There is a danger element that excites me, but I'm not out to self-destruct."
And it appears from talking to this young actor that he is enjoying life and his activities too much to be consciously or even subconsciously bent on suicide. It's only the excitement he's after.