SOAP OPERA DIGEST COLLECTION
During his five years on General Hospital, Richard Dean Anderson was frequently featured in Soap Opera Digest magazine. Included here are several of these special mentions.
RICK ANDERSON'S VERY SPECIAL NEW YORK CITY VISIT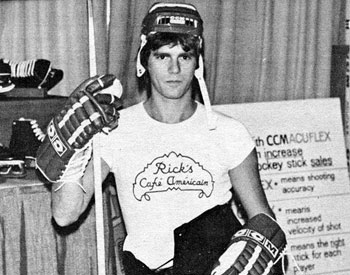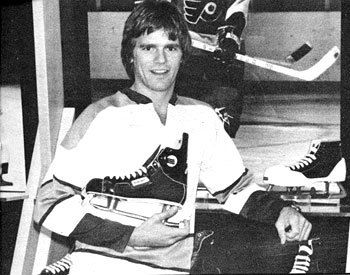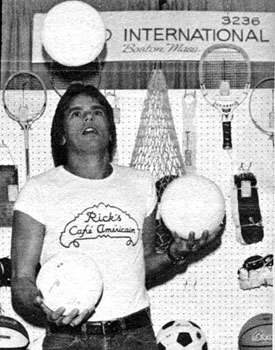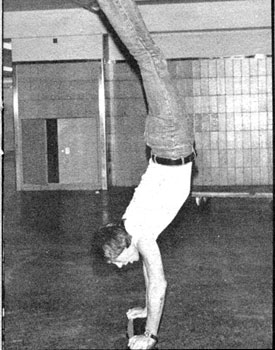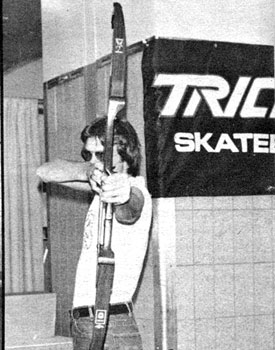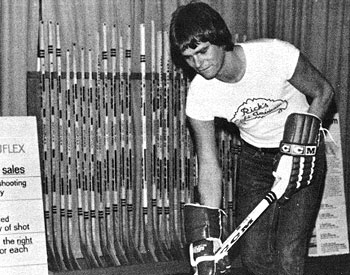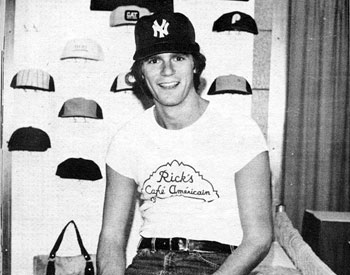 What a fun time we had! It was such a joy watching Rick (Dr. Jeff Webber, General Hospital) Anderson dash to and fro through the vast aisles of the New York Coliseum. He was like a kid in a candy store! -- and we weren't at all surprised by his reaction. After all this was a sports show (sponsored by the Sporting Goods Manufacturing Association of North Palm Beach, Florida) and what this talented and handsome young actor loves most -- next to acting that is -- is sports! In fact, if it weren't for injuries suffered on the ice years ago, he might right now have been a big pro-hockey -- instead of daytime TV -- star. It's a desire that never really died. While Rick skated... juggled... and shot arrows... our photographer clicked away and captured his antics on film. Follow along and share the joy we felt as we watched Rick cavort.
HOLLYWOOD PARTIES
GENERAL HOSPITAL CELEBRATES ITS 14TH ANNIVERSARY
Soap Opera Digest. September, 1977: pg. 86-88
What a fun time was had when the cast of General Hospital gathered together to commemorate the show's 14th successful year on TV. They danced and drank their way through a totally delightful evening. Our photographer captured some of their poses on film. Follow along and join the fun... just be careful not to let the champagne bubbles tickle your nose.
A VERY SPECIAL ANNIVERSARY PARTY
General Hospital Honors Its Original Cast Members
Soap Opera Digest. September 4, 1979: pg. 98-104
As General Hospital was about to enter its sixteenth year, Lieux Dressler (Alice Grant) approached her fellow castmates with this idea: Instead of honoring the show as a whole, why not honor the five individuals who have been acting on "GH" since the beginning. Why not throw a surprise party for John Beradino (Dr. Steve Hardy); Emily McLaughlin (Jessie Brewer, RN); Rachel Ames (Audrey Hardy, RN); Peter Hansen (Lee Baldwin) and Craig Huebing (Dr. Peter Taylor). Did she have their okay to proceed with the plans for such a party? Lieux not only had their okays, but also their support. Everyone worked long and hard to make this a very special party. John, Emily, Rachel, Peter and Craig will probably long remember this heart-tugging surprise.
GENERAL HOSPITAL'S GALA AFFAIR
Soap Opera Digest. April 22, 1980: pg. 22-27
Held at the plush Beverly Hills Hotel, it was a super-charged get-together. A fun time was definitely had by cast and crew alike.
The room echoed with applause as ABC Daytime Vice-President, Jackie Smith, presented GH Producer, Gloria Monty, with a special award for the show's second anniversary at the top of the ratings. Following this formal presentation, the crowd was entertained by Bob Lansing, Jr., "GH" Production Assistant Wendy, and Rick Anderson (Jeff). This group performed a new rendition of "Please, Dr. Hardy," a tune co-written by Rick and Wendy.
OLD FRIENDS RETURN TO A GENERAL HOSPITAL REUNION
Soap Opera Digest. October 14, 1980: pg. 116-121
When plans were being drawn up for the recent General Hospital fanclub meeting in Beverly Hills, someone had the brilliant idea to invite as many former cast members of the show as they could find. So, in addition to most of the current members, which included the ever-popular Kin Shriner, Genie Francis, Denise Alexander, Richard Dean Anderson, Doug Sheehan, John Beradino, Brooke Bundy and Chris Robinson, there were almost as many alumni of the show.
It was fun to get Michael Gregory (the original Rick Webber), Richard Dean Anderson and Patsy Rahn (the original Monica) together, if only for a few minutes. It was especially touching to see the warmth between Patsy, Michael and Rick after all this time - their special fondness for each other is still there. Later in the afternoon, when Richard Dean Anderson and Doug Sheehan entertained with music and mime, Rick mentioned, "I think this was a wonderful idea - getting all of us together - and I think it was even better getting people who have left the show. It's so great to see them again, especially Patsy and Michael. The three of us went through a lot together when we were fresh, green daytime actors fighting for survival in the new medium."
LIGHTING UP THE NIGHT
"General Hospital" Throws a Super Bash
Soap Opera Digest. March 17, 1981: pg. 44-47
SPECIAL APPEARANCES
DAYTIME STARS MEET THEIR FANS
...To Chase Away The Blues, One Dose of Stars, Fans, and Fun
Soap Opera Digest. January, 1978: pg. 32-37
Daytime stars and their fans had a chance to meet and mingle at the Fan Gathering at the Americana City Squire Hotel in New York City...
Suddenly my concentration was blown by a commotion occurring at a table at the far end of the room. My eyes immediately zoomed in that direction and all it took was one quick look to explain the squeals of delight and the fluttering of feminine hearts. Seated at this table there were the two young and very handsome stars from General Hospital, Michael Gregory (Dr. Rick Webber) and Richard Dean Anderson (Dr. Jeff Webber). They seemed to be having as much fun meeting the fans as the fans were having meeting them.
SOAP STARS HAVE A GREAT ADVENTURE
Soap Opera Digest. Sepember 4, 1979: pg. 110-113
Over a weekend recently, eight performers from the world of daytime took over Great Adventure, a large amusement park in New Jersey. Harriet Epstein of "Soaps Alive" spearheaded the four shows put on by the stars. We caught up with them on Sunday and spent a few hours walking around the park and taking in the rides.
Richard Dean Anderson brought a touch of the west, as he strode through the park in cowboy hat and boots, stopping to greet admirers as he went.
Fun on the Rides!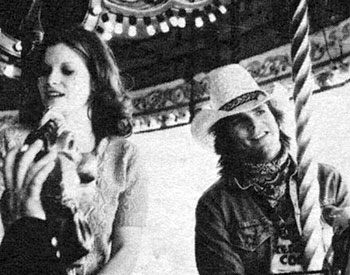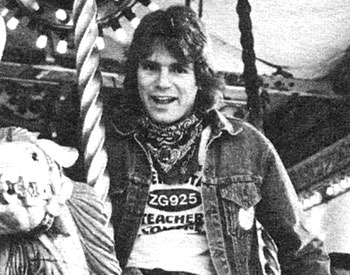 Stars Show Their Talents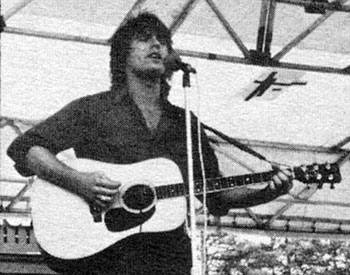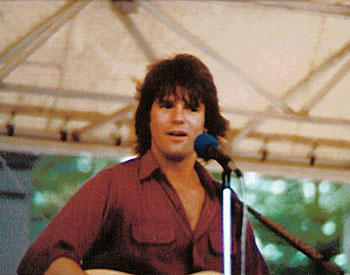 SOAP STARS ROCK THE CALIFORNIA SCENE
Soap Opera Digest. November 6, 1979: pg. 112-116
The Goodtime Theater in Knott's Berry Farm was the site, last June, of "Love in the Afternoon," an innovative musical revue which showcased the talents of daytime's very popular Bill and Susan Hayes (Doug and Julie Williams, "Days of Our Lives"); Richard Dean Anderson; and Victoria Mallory and Beau Kayzer (Leslie Prentiss and Brock Reynolds, "The Young and the Restless"). It was a rousing and spirited song and dance fest. In fact, it was such a rip-roaring success that co-producers Dick McInnes and Maria La Magra are considering future shows with different stars in the same format. Be on the lookout. One of these shows may be coming to your area soon.
The big hit of the evening was Richard Dean Anderson's rendition of "Please, Dr. Hardy" a humorous ditty which gently satirized the storyline of "General Hospital." Performing this song with Rick were the tune's cowriter, "GH" Production Assistant, Wendy Power and Bob Lansing, Jr., son of "GH's" Emily McLaughlin (Jessie).
SEEN AROUND THE COUNTRY
Soap Opera Digest. November 25, 1980: pg. 28-29
From various shopping malls and amusement parks across the Nation, Harriet Epstein's "Soaps Alive!" brings daytimers together with their adoring public. Fans are always delighted by the chance to meet and greet their serial favorites, and the stars love coming face to face with their audience.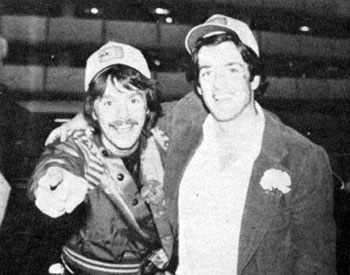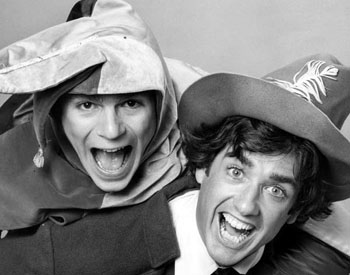 HOLLYWOOD HAPPENINGS
Good-looking Richard Dean Anderson made his professional singing debut at Knotts Berry Farm in Los Angeles. Along with other soap stars, Bill and Susan Hayes, Beau Kayser, Victoria Mallory, Richard was fantastic. Like everything else he does, he performed beautifully and now if the record producers are after him to sign a contract, we wouldn't be surprised.
Rick Anderson and Deidre Hall ("Days Of Our Lives") are still a definite twosome, although they are telling friends, "It isn't all that serious. We happen to have a lot of laughs with one another and enjoy each other's company."
Richard Dean Anderson, David Hasselhoff (Dr. Snapper Foster on "The Young & the Restless") and Wings Hauser (Greg Foster also on "Y&R") still can't believe the standing ovation they received while performing in a rock & roll revival in Memphis, Tennessee. The trio who starred on "Soaps On The Mall" had to turn away thousands of screaming ladies since the place was filled to capacity. The females actually knocked down fences to get a glimpse of their favorite soap stars, and you'd better believe the gentlemen in question couldn't believe this all was happening to them. "I'm in a state of shock," Rick said. "I have had dreams about something like this happening, but I never thought it would be a reality. It's fantastic." The other handsome men had to agree.
Richard Dean Anderson is excited about going to Nashville, where he'll be singing four songs at the "Grand Ole Opry." "Who knows, this might be the start of something new for me," the good-looking man said.
Richard Dean Anderson, David Hasselhoff and Wings Hauser were invited back to Memphis for a revival of rock & roll. One disc jockey caught their act and thought they were so terrific, the man rented a hall to have them back.
Richard Dean Anderson, Mr. and Mrs. Wings Hauser (Greg Foster on "The Young & the Restless") and Deidre Hall of "Days of our Lives," certainly surprised everyone when they showed up at the Thalian's Ball in black tie driving a Sherman Tank. They all decided on doing something different and you'd better believe their arrival was.
Tuscon, Arizona, might never be the same... not since Richard Dean Anderson and Emily McLaughlin (Jessie Brewer, same show), Wings Hauser and Beau Kayser of "The Young and the Restless" and Patty Weaver of "Days Of Our Lives" appeared in the musical variety show "Love In The Afternoon." The five stars were greatly received, and when Rick Anderson and Wings performed their numbers together, the audience started screaming with delight. We get the feeling great things are going to happen for those two handsome gentlemen, along with the rest of the cast. In fact, when you talk to all five stars, they tell you the same thing: "We can't wait until we do another musical"... hope that doesn't mean they are getting tired of the soaps.
The soap stars that appeared at Circus Varcas at the Hollywood Bowl will probably never walk the same. David Hasselhoff, Richard Dean Anderson, Todd Davis, Doug Davidson, and John Stevenson, just to name a few, all rode on elephants. While they enjoyed it as they were doing it, they admitted they felt sore when they started to walk.
If Richard Dean Anderson never sees rain again he wouldn't be upset. "I've had my share of it," he said. While California was experiencing the terrible rains, Richard, who lives at the top of Topanga Canyon, was stuck in his house for five days without food, water or electricity. His car was flooded and the roads were washed away. When Rick was able to get out, he spent his time helping the road crews lay water pipelines... If that wasn't enough, the network was so nervous since Rick couldn't come to work they were willing to send the ABC helicopter to get him out, but that would mean Rick would have to walk at least seven miles, if they wanted to land. Luckily, when the sun started to shine, Rick jumped into his four-wheel drive that he just purchased, and managed to get out of the disaster area. His close friend Doug Sheehan (Joe Kelly on "General Hospital") gave him room and board.
Went to a taping of the Dinah show special, "Sex Symbols in Daytime TV," with Josh Taylor (Chris Kositchek, "Days of Our Lives"), Nick Benedict (Michael Scott, "Y&R"), Doug Sheehan (Joe Kelly, "GH"), Richard Dean Anderson, Stuart Damon (Alan Quartermaine, "GH") and Charles Nelson Reilly, co-host... Emily McLaughlin (Jessie Brewer, "GH") visited to see her son Bob Lansing, Jr. play in Rick's band. Also in the audience was Doug's fiancee, makeup consultant Kate Abert; Nick's fiancee, Jennifer Land (they're on their second time around - originally dated in high school) and Rick's current love-of-his-life, stewardess Cathy McGuiness.
Richard Dean Anderson is thrilled about the new demo tapes he will be cutting as soon as he returns from Hawaii. When the good-looking actor appeared on "Dinah," he received so many rave reviews about his singing. No, he's not about to leave the soap for a singing career, but he's happy that he's getting the chance to do both... By the way, Rick's romance with airline stewardess Cathy McGuiness is still very much on. In fact, the two were happily sipping mai-tai's in Hawaii.
Hollywood, California... Attended a swinging soiree with West Coast soapers rockin' & rollin' at Flippers Roller Boogie Palace. Richard Dean Anderson and Carl Dante's rock group were the show stoppers at the event. Rick's current love, Cathy McGuiness, missed that particular performance - she's recouping from surgery on her leg.
Richard Dean Anderson will have to relax from his musical chores for a while. His backup band, Carl Dante, which includes Bob Lansing, Jr., left for Germany for a few months to record some albums. While Richard wishes them nothing but good luck, he is hoping they return soon. His music means a great deal to him.
Richard Dean Anderson threw a housewarming in his Topanga Canyon hideaway. (It's about time Rick; you've been there almost three years!) Most of his castmates attended and had the time of their lives. Seems that the party lasted well into the next day.
Sorry to say it's so, but Richard Dean Anderson is now telling everyone that, after four years on the show, he's calling it quits. "My contract expires soon and I want to start doing other things." He's certainly going to be missed.
Can't think of a lovelier way to spend a rainy Saturday afternoon (and it rarely rains in Southern California) than at Doug Sheehan's (Joe Kelly, "General Hospital") housewarming at his new home in Tarzana. Tony Geary (Luke Spencer) made a rare social appearance along with Peter Hansen (Lee Baldwin), who brought his daughter Gretchen, Susan Brown (Gail Baldwin), Renee Anderson (Alexandria Quartermaine), and Jackie Zeman (Bobbie Spencer). Doug's brother Jim and his Mom came in from San Diego. She's a real Helen Hayes look-alike! Best buddy Richard Dean Anderson (ex-Jeff Webber) could not make the festivities because of a personal appearance in Santa Fe, but he sent along girlfriend Cathy with three of her stewardess roommates!
Richard Dean Anderson, now the former Jeff Webber of General Hospital, told me during the parade location-shooting recently, in downtown Los Angeles: "I'm looking forward to a long rest, now that I'll be finished with the show in mid-March. It's been a while since I had a vacation, so I think I'm heading for Hawaii." Then Rick's agents called and had good news and bad news for him. The good news was that he had been cast in a new pilot, "Brian and Sylvia," which in all probability could be a new hit series, then the bad news... he had to postpone his vacation in Hawaii. The pilot is a spinoff from the popular "Facts of Life" series on NBC, in which he plays Brian to Roseann Katon's Sylvia. It could be very controversial, since it's about an interracial marriage. At the taping of the show, teenage girls in the audience screamed so loud and long whenever Rick came on stage, a second taping had to be scheduled. Before it started, Rick was brought out to meet the audience, and get the screams out of their systems. The pilot aired recently as a "Facts of Life" episode; now the powers-that-be must decide its future.
QUESTIONS AND ANSWERS
STAR DESK
Soap Opera Digest. November 6, 1979: pg. 138-139
This is your page, dear reader! You can be in personal touch with your favorite daytime stars; ask all those questions you've always wanted, about their lives - personal and on-screen. We'll read your letters and forward the most interesting directly to your stars. Their answers, together with your letters, will be published on this page of Soap Opera Digest.
Dear Richard Dean Anderson (Jeff, "General Hospital")
I am a loyal fan of "General Hospital" since it began in 1963. I like the way you play Dr. Jeff Webber. My questions are: How old are you, what kind of hobbies do you have, do you have any brothers or sisters, do you like rock music and what are your favorite shows? Say hi to everyone on "GH" for me.
Thank you,
A.H., Huntington Beach, CA
Dear A.H.,
Jed Allan once told me never to reveal my real age for fear of losing my appeal to the younger ladies, etc. So, with that in mind, I won't tell you I'm really 29 years old chronologically and about 18 every other way.
Music has just recently become a serious hobby for me and I've been fortunate enough to fulfill some boyhood fantasies by performing "live-and-in-color" for several soap variety shows. Since my career as a pro-hockey player was short-lived, my athletic energies are zapped up in dirt-bike riding (MX, if you will), scuba diving, snow skiing, this that and the other thing. I'm also a pin-ball fanatic and part-time wizard.
I have three younger brothers. Jeff (believe it or not), who is 28, Tom, 25, and James, 21 and disco king of San Diego.
I'm not real stimulated by rock music, no. My father is an incredible jazz bassist with an intelligence and a consciousness of music that is overwhelming. I grew up in a house filled with the sensitive sounds of Bill Evans, Oscar Peterson, Pilhoffer, Brown, Bob Crea, etc. I just recently bent my interests to country-western, a simpler form that I can not only perform (since I do not tout myself as a fine musician) and can identify with peripherally. "Rock music" is not a sensitive mode... it makes my blood nervous.
I watch very little television. The only shows I will make an effort to watch are "60 Minutes" and the "Stanley Cup Finals"... Do we all know what the Stanley Cup is? It's the best show in town, and it's on once a year.
Love! Rick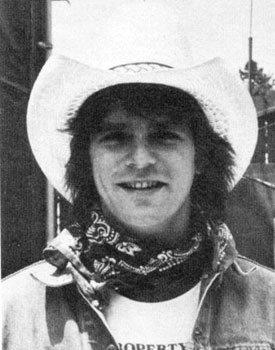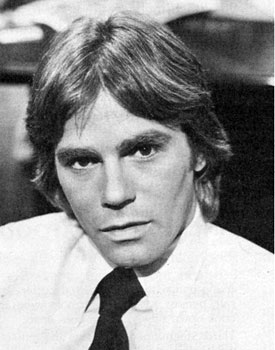 "THE GREATEST INFLUENCE ON MY LIFE"
Soap Opera Digest. December 18, 1979: pg. 45
Rick Anderson (Jeff on "General Hospital"):
"My father. I always knew he was there when I needed him. He never pushed me into being an actor but gave me the encouragement when I needed it."
"THE PEOPLE SOAP STARS MOST ADMIRE"
Soap Opera Digest. May 13, 1980: pg. 14
Rick Anderson (Jeff on "General Hospital"):
"I have total respect for Jack Nicholson and consider him my idol as an actor. The man is brilliant."
"WHAT ARE YOU GIVING YOUR FAVORITE VALENTINE?"
Soap Opera Digest. February 19, 1980: pg. 17
Richard Anderson (Jeff, "GH"):
"There's no special valentine in my life now, but if there was, I would give her a special love poem which I would set to music and sing to her."