UPDATES
FedCon 23
May 29 - June 1, 2014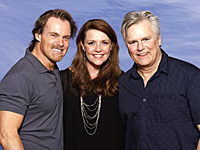 Richard returned to Germany in May to attend FedCon 23 in Düsseldorf. The convention marked a reunion of sorts with his Stargate co-stars, Amanda Tapping and Michael Shanks.
In addition to photo and autograph sessions, Richard attended the opening press conference, and he participated in several panels, both on his own and with Amanda, Michael, and Stargate guest stars Jay Acovone (Kawalsky) and Suanne Braun (Hathor).
Below are some photos from FedCon 23.