WORMHOLE X-TREME!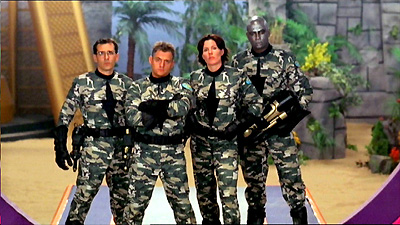 05.12 Episode 100
Airdate: September 8, 2001
Martin Lloyd, Dr. Tanner, and their compatriots, refugees from an alien world, had been living incognito in Montana. However, their encounter with SG-1 had alerted the NID to their presence, and the time has come for their backup plan, the spaceship which they had left on a timer and which is due to reach Earth in three days. In the meantime, Martin has left Montana behind for the bright lights of Hollywood. He has sold a script entitled "Wormhole X-Treme!" which bears an uncanny, if exaggerated, resemblance to SG-1 and the Stargate Program, and he is currently working as the creative consultant for the project.
Investigating the spaceship headed for Earth, SG-1 travels to Hollywood to conduct surveillance on Martin's house, and O'Neill goes undercover as the Air Force technical advisor for the program. However, Martin doesn't recognize O'Neill. In fact, he has no memory at all of Montana or of the events of last year. The vitamins he has been taking are laced with chemicals that suppress his memory, and even when O'Neill confronts him with the truth, he refuses to believe it. Further complications arise when O'Neill and Martin are captured by Tanner, and Carter and Daniel are detained by the NID, who now control the investigation.
Tanner injects Martin with an antidote to restore his memory. It had been his choice to forget his past and begin his new life on Earth, but now his friends need his help, and the location of the mobile computing device in his possession that will control the approaching ship. As television filming proceeds, the device is located among the props, and O'Neill agrees to turn it over to Tanner, allowing them to make their escape just as the enormous ship appears overhead, and the NID forces arrive on the scene. However, Martin chooses to stay behind on Earth, having already found his new path.
Story by: Brad Wright, Joseph Mallozzi, and Paul Mullie
Teleplay by: Joseph Mallozzi and Paul Mullie
Directed by: Peter DeLuise
Guest Starring: Willie Garson as Martin Lloyd, Michael DeLuise as Nick Marlowe as Colonel Danning, Peter DeLuise as Director, Jill Teed as Yolanda Reese as Stacy Monroe, Robert Lewis as Dr. Peter Tanner, Benjamin Ratner as Producer, Teryl Rothery as Dr. Fraiser, Christian Bocher as Raymond Gunne as Dr. Levant, Don Thompson as Props Guy, Peter Flemming as NID Agent Malcolm Barrett, Herbert Duncanson as Doug Anderson as Grell the Robot, David Sinclair as Bill the A.D., Kiara Hunter as Alien Princess, Mar Andersons as Bob, Laura Drummond as Security Guard, Keath Thome as Head SF
Reference: Doug Anderson, Malcolm Barrett, Bill the A.D., Bob, Robert Cooper, Director, Executive Producer, Executive Producers, Raymond Gunne, Martin Lloyd, Martin Lloyd Spaceship, Make-Up Artist, Man in Black, Nick Marlowe, Murray, NID, NID Rogue Operation, Prop Master, Yolanda Reese, Second A.D., Studio Executives, Studio Personnel, Peter Tanner, Major Wood, Wormhole X-treme!, Writer, Writers
| | | |
| --- | --- | --- |
| Studio | Wormhole X-treme! | Martin Lloyd |
At 2:30am, the Kepler Space Probe picked up the image of Martin's ship as it passed by Mars. It was first thought to be an asteroid until it began changing course and accelerating. The energy signature was consistent with Martin's pod found in Billings, Montana.
The ship was on a timer as a backup plan. It was now on course for Earth and would arrive in three days. The mobile computing device that Martin took from Tanner was required to access the ship.
The Air Force allowed production of "Wormhole X-treme" because of plausible deniability.
The Air Force had gotten Martin a job in real estate, but he wasn't happy, he wanted to forget, and he began taking vitamins laced with the same chemical that had suppressed his memory before, in order to forget. In another month the long-term memory loss would have been permanent.
Agent Malcolm Barrett and NID forces were given full authority over the investigation to recover Martin, his compatriots, and their ship.
THE DANIEL STEREOTYPE


Damn it, Colonel, just because they're aliens and their skulls are transparent doesn't mean that they don't have rights! [Dr. Levant]

THE TEAL'C STEREOTYPE


Grell never says a word.

THE ENTIRE UNIVERSE SPEAKS ENGLISH


So you think aliens eat apples? Why not? They speak English. [Props Guy]

CLARIFYING THOSE SCIENCE FICTION CONCEPTS ONCE AND FOR ALL


So, three shots disintegrates them. I'm going to pretend you didn't say that, because that is quite possibly the stupidest thing I've ever heard you say. [Director]

Matter can only move one way through an open wormhole. [Martin]

Because you're "out of phase". So, how come I don't fall through the floor? [Yolanda]

EVERYONE'S A WRITER


"Dust Off That Old Screenplay and Sell It!", national bestseller by Robert Cooper

Is this a pitch? It's not bad, if we just add a twist. Why don't you type up what you have, and I'll take a look at the coverage on it. No promises... [Martin]

Never ask a writer where he gets his ideas. In truth, we don't know. [Martin]

We could always go back to the way it was in the script. [Writer]

THE EXPLOSIONS ARE NEVER BIG ENOUGH


Bigger!!! What is it about the word "bigger" that you don't understand?! [Director]

THE SPECIAL EFFECTS BUDGETS ARE NEVER BIG ENOUGH


We're gonna see it in their reactions. It's like... Oh my God, look at that ship, it's... indescribable. [Producer]

THE AIR FORCE ADVISOR IS SEEN BUT NOT HEARD


He's the new Air Force technical advisor. He doesn't know he's not supposed to say anything yet. [Martin]

ALWAYS TURN OFF YOUR CELL PHONE


O'Neill's cell phone goes off during shooting.

SCIENCE FICTION ONLY WINS THE TECHNICAL AWARDS


We're gonna win an Emmy for this! Visual effects category. [Martin]

Okay, show of hands, who here has won a CableAce award? [Producer]

THE LANGUAGE OF HOLLYWOOD


Yeah, yeah, we'll rewrite it, it'll be great. You want to have lunch, just call my assistant. [Martin]

THE APPEAL OF THE TEAMSTERS UNION


Why would somebody with two Ph.Ds become a teamster? Money, I guess. [Carter]

THE MYSTERIES OF THE EYEBROWS


Colonel Danning has two scars.

Grell the Robot never manages to raise only one.

WHERE DID ANISE COME FROM?


You know what this show needs? Sexy female alien. Trust me. [Hank Cohen]

THE MIND OF THE EXECUTIVE PRODUCER


Cool special effect. [Greenburg]
I've seen better. [Wright]
We'll fix it in post. [Greenburg]
Yeah, so, you think we'll get 18 in? [Wright]
| | | | |
| --- | --- | --- | --- |
| | | | |
| | | | |
| | | | |
| | | | |
| | | | |
| | | | |
| | | | |
| | | | |
As a matter of fact, it does say "Colonel" on my uniform. [Danning]
Okay, scene 23 takes place on another planet, so you think aliens eat apples? [Martin]
Why not? They speak English. [Props Master]
I've got a concept meeting in 10 minutes, and if I'm not there on time... well... well, they start without me. [Martin]
So, three shots disintegrates them. [Martin]
You know what? I'm going to pretend you didn't say that, because that is quite possibly the stupidest thing I've ever heard you say. [Director]
That would be classified. [O'Neill]
Oh, I like that. Sort of like a yes, but really a no. [Nick]
Research says that shows with "X" in the name get higher ratings. [Martin]
They are aliens too. They're from your planet. [O'Neill]
Okay, that is the stupidest Act 4 opening ever. You should stick with the Air Force, Colonel. A writer, you're not. [Martin]
I'm hoping that's your insulin shot. [Martin]
Yes, the aliens. Please, Mr. Man In Black, don't pretend you don't know about the aliens. [Daniel]
Don't worry, it's on cable. [O'Neill]
Peter DeLuise cameo: Wormhole X-treme! director
Popular Culture References:

The X-Files

Research says that shows with "X" in the name get higher ratings.