I watched Fire and Water again last night.
It's a great episode.
It stands on its own and doesn't impact the show, but it's entertaining, and we see the team members in an other way, they are all emotionally affected.
Jack, Sam and Teal'c deal with the loss of Daniel and the fact of having been mentally manipulated (it's the first time it happens, and it won't be the last!
)
And Daniel is scared that he's going to get killed, torn betwen wanting to help he creature but without knowing how, with this creature that doesn't give him clear demands. He starts to get angry but quickly manages to reason the beast and work together to find the truth.
The make up department did a wonderful job with Nem, the mask was very well done and realistic!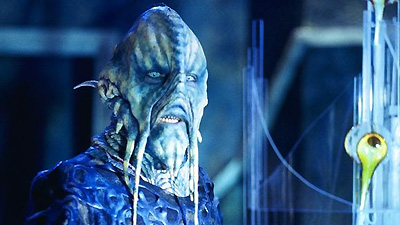 This episode also has funny moments
Jack in slippers, it made me laugh, I don't know why
Teal'c face when he realized his mind is tricking him!
Hockey!
"Can you get this damn car out of here?!"
Hammond: "You know that's my car?"
Jack: "You should get that window fixed..."
As Jerseycoconut said, the very funny line
Daniel: "Uh, this is a long story"
Jack: "Tell us about it over sushi"
followed by
Daniel: "Memorial service??"
Sam: "The Colonel said some nice things"
Daniel: "He... he did? He did?!?"
By the way, how many funerals did Daniel get over the years??
So a great episode, not essential to the show but entertaining and showing other facets of our favorite explorers