He looks fantastic!!! Really, the sparkle, the smile, the dimple in his cheek, just wow!!! He enjoys life, Love to see him like this!!
Lots of love,
Lies
---
He dose look great in that photo. Still cute as ever.
~Brooke~
---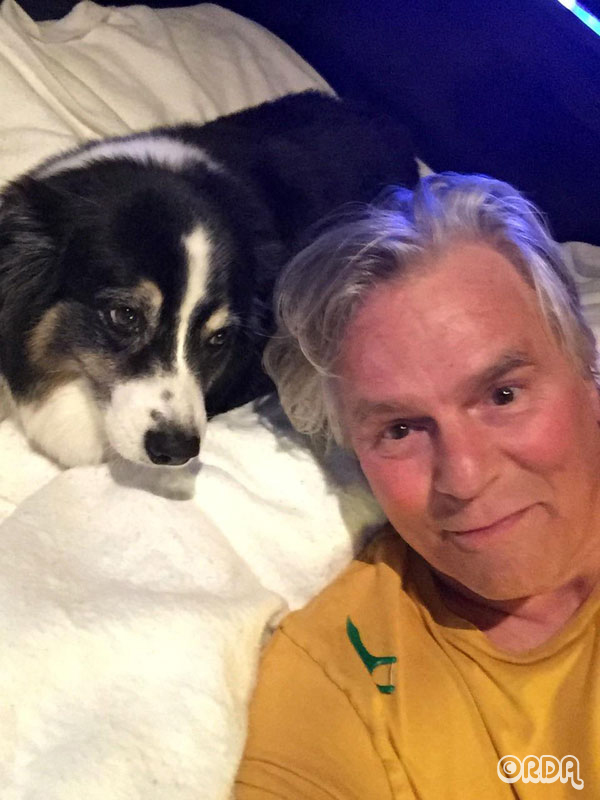 RDA's note :"The Anderson dogs ~ at night ".

Good night then ...sweet dreams.
Veronica LAKings
---
This photo of RDA and his Dog is Soooo Adorable!
~Brooke~
---
Yeah, I love it.....Andy is looking like: Weren't you flossing your teeth???
Lots of love,
Lies
---
That picture is just cute. Love it.
Anja
Walk in love, walk in service, and you will walk in honor.
MacGyver
....by doing so our world will be better each day...
Anja
---
Posts: 2018
Joined: Mon Mar 31, 2014 1:50 pm
Location: ATHENS, GREECE
Such a cute and adorable picture. Andy looks so sweet and Rick is really lovely. He looks so calm and happy, and has that sparkle in his eyes, though it is late at night, but having such a cute company next to him, it couldn't have been better. Andy, take care of our man, and you both have sweet dreams. Thank you so much Rick for sharing another beautiful selfie with us, and thank you Kate for giving us this wonderful update.
---
Yes
I can hear Andy now "Bub (harkening back to MacGyver's granddad lol) time to turn off the phone and go to sleep" Great capture of Andy looking at dad.
One never knows till one tries
---
As for the (jumbled) capital letters of his signature : ENSHRINE maybe ? Did I decipher his code ? The question is, is there a secret message ...or not ?
V
Veronica LAKings
---
Well....the word SHINE is in it and I mean...He SHINES!!! Like a sun!!!
Lots of love,
Lies
---