ARCHIVES

Gentlemen's Quarterly. August, 1987
Advertising Supplement
GENTLEMEN'S QUARTERLY
4RENEGADE ADVERTISEMENT
The following advertisement spread for the 4Renegade Collection of clothing from The Haggar Apparel Company appeared as "A Special Promotional Section" in the August 1987 issue of Gentlemen's Quarterly.
MACGYVER: RENEGADE ON RETREAT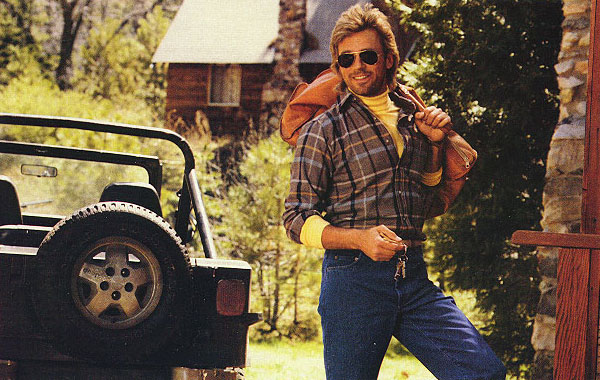 That's me, Richard Dean Anderson. You usually see me as MacGyver, Mondays at 8 on ABC-TV. I'm known for coming to the assistance of anyone in need, always using ingenuity rather than violence to escape from impending doom.
I used my ingenuity to escape from the set for a few days of rest and relaxation. In the mountains, I knew I'd be away from it all. There I am, just arriving at the cabin. I didn't bring much, just some clothes I could feel comfortable in. 4Renegade. Real comfort. Real relaxation. When you're taking it easy, looking good shouldn't be a challenge. Little did I know, I had lots of other unexpected challenges to deal with.
____________________
The preceding story is a fictional account.
Schiffman, Bonnie (photographer). "MacGyver: Renegade on Retreat." Special Promotional Section. Gentlemen's Quarterly. August, 1987.